The EPDM playground is made of high-strength, high-elasticity, strong anti-ultraviolet EPDM particles mixed with a certain proportion of one-component glue, directly paved on concrete or asphalt, and compacted. It has a long service life and is convenient for construction, strong adaptability to the foundation, not easy to foam and other advantages.
Features
Moderate ball speed, high permeability, excellent heat resistance, cold resistance, aging resistance, corrosion resistance and UV resistance, good elasticity,Bright colors.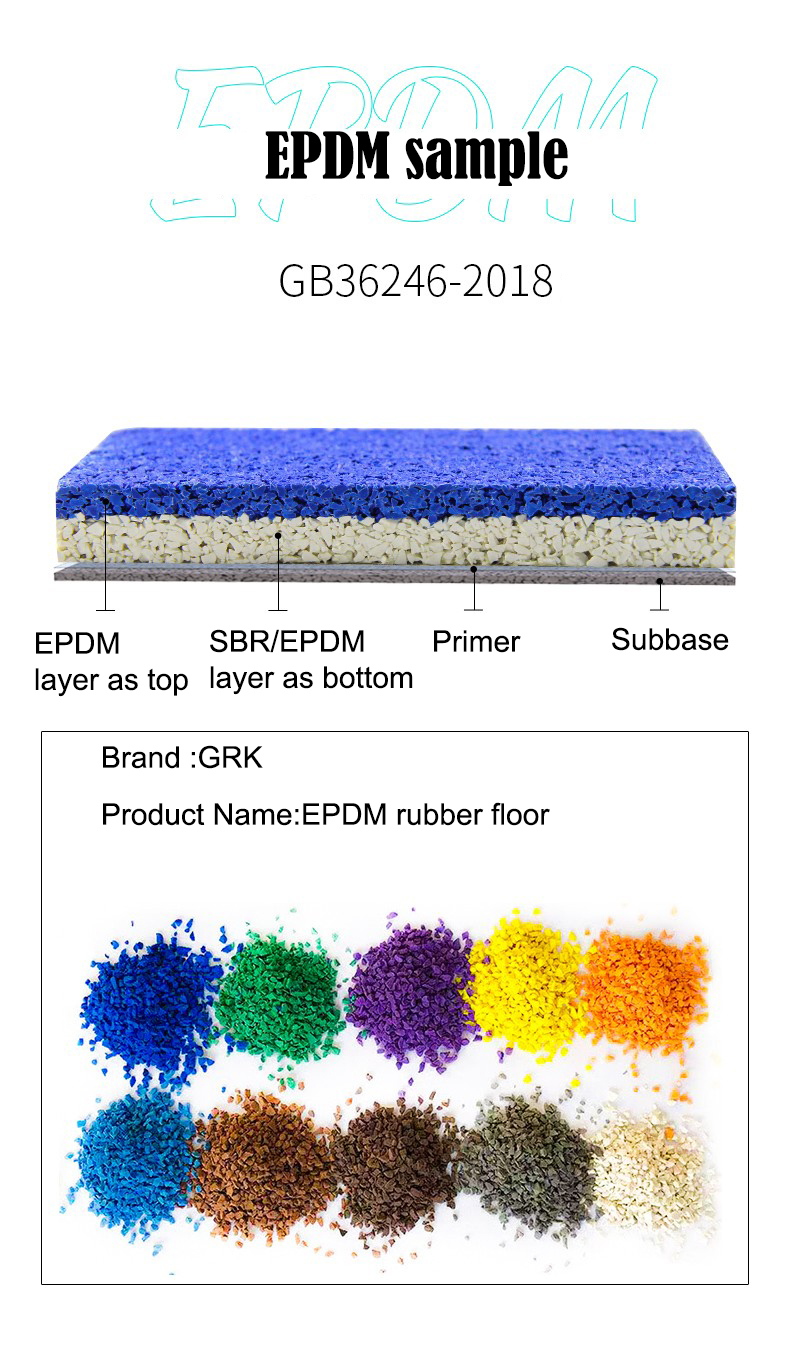 Disadvantages:
1. The surface layer of the elastic body will make the leg muscles of the athlete easily fatigued when exercising, which will hinder the athlete's performance.
2. The wear resistance is not strong, it is easy to drop granules, and daily maintenance is difficult.
3. The surface is made of EPDM rubber granules, and there are uneven granules surfaces, which will make the ball path of the tennis ball unstable after landing.
Application
Kindergarden playground,different kind of sports court, rubber track,jogging track
Packaging and Storage
Granular packaging: 25 kg/bag;
Binder packinging:20kg / 200kg.
Store in a cool, ventilated and dry warehouse, away from fire and heat sources, strictly waterproof, moisture-proof, and avoid sunlight.
Construction
1) Clean the subbase ,concrete or asphalt
2) Directly brush binder as primer, the dosage is 0.2kg/㎡
3) Bottom layer , 1kg binder mix with 8kg SBR granules
4) Top layer,1kg binder mix with 5kg EPDM granules
Precautions:
The binder should not be in contact with the skin for a long time. If it accidentally enters the eyes, rinse with plenty of water and seek medical attention in time;
This product is a chemical product, it is forbidden to eat, it is forbidden to be implanted in the body, and it is forbidden to be contacted by children.
When the outdoor temperature is above 35 ℃ and below 5 ℃, it is recommended not to apply.
Contact Information
Email: grk-sales@foshangrk.com.cn
Mobile Phone: (86)13660776067
Address: No.5-1 Yanjiang Road Gaoming district
Country/Region: China(Mainland)
Provice/State: Guangdong
City: Foshan