Key Description
Water-based polyurethane mortar anti-slip flooring is made of high-performance water-based polyurethane resin. It is made of high-strength cement, active grade silica sand and pigment as aggregate. The four-component resin-rich enamel-coated color water-based mortar floor is made of high-strength water-based polyurethane resin. The coating has good wear resistance, impact resistance, chemical resistance and resistance to other physical erosion properties and can withstand heavy loads. The coating thickness is 4 or 6 mm.
Features
1. Environmental protection: environmentally friendly products, extremely low VOC, odorless construction process, and meet food hygiene quality requirements;
2. Slip resistance: It has a rough texture surface of the aggregate and has a non-slip effect;
3. Acid and alkali resistance: tolerant to a variety of organic and inorganic acids and bases, amines, salts and solvents;
4. High temperature resistance: The coefficient of thermal expansion is similar to that of concrete. It maintains the same displacement as the substrate during normal thermal cycling, is not easy to crack, and maintains its physical properties at -40 ° C to 120 ° C. The thickness of the system can withstand hot steam rinsing;
5. High wear resistance: The coating has high bonding strength, high wear resistance, and certain toughness when subjected to impact or deformation.
6. High efficiency: The solidification speed of the material is fast, and it must be partitioned and properly connected to form an efficient construction flow.
Technical Datas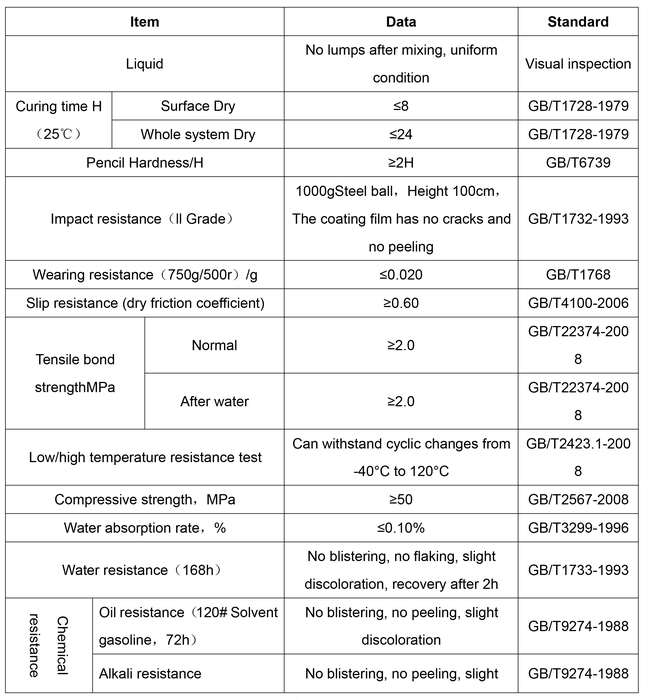 Payment and Delivery Terms
Mini Order Quantity: 100 sqm
nearest port: Guangzhou
Payment terms: TT or L/C
Samples Available : Yes
Delivery Days: 4-10days after deposit
Application Step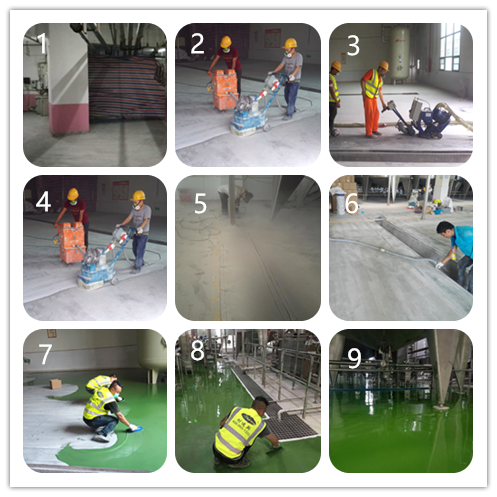 Contact Us
Name: Madam Helen
Mob:0086-13726309092 (WhatasApp,Wechat)
Facebook: paintfloor.GRK
Email: grk-sales@foshangrk.com.cn
Tel:86-757-88632287