Product Description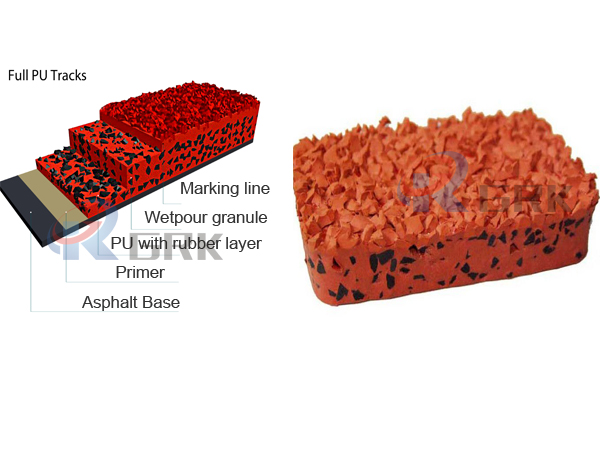 Standard Type(13mm thickness)
1. Asphalt base
2. Waterproof primer(1 layer)
3. Full PU with rubber buffering layer(7mm)
4. Strengthen layer(3mm)
5. Full PU wear-resistant Topcoat layer(3mm)
6. Marking Line(2layers)
The Full PU track system is the first choice for professional sports venues. It consists of PU+SBR at the base layer and PU+EPDM particles on the surface layer. The synthetic surface has excellent sports performance, physical properties, good elasticity, weather resistance and anti-nailing properties.
Product Features
1. Environmental protection: non-toxic, pollution-free, in line with environmental requirements.
2. Any season and temperature difference can maintain high level of quality, and can be used immediately after rain, increasing utilization time and increasing site utilization.
3. It has the elasticity and rebound force of humidity, reduces sports injuries, and is suitable for long-term practice and competition.
4. It will not fade, chalk or soften due to the pollution of ultraviolet light, ozone and acid rain, and will maintain its vivid color for a long time.
5. Wear resistance is less than 2.5%, meeting the needs of schools at all levels for a long time and high frequency.
6. There is no resilience due to the weight of the track and field equipment.
7. It is also not damaged by spikes or starting blocks in the 100-meter starting point where the force is most frequently used.
8. It has a strong elastic layer and a buffer layer to absorb strong impact and the surface will not be damaged.
9. The self-leveling material is used in the construction and the surface is flat, which can meet the requirements of a particularly flat competition venue.
10. Special construction treatment, strong bonding force, can suppress the rise of water, no blistering, peeling and so on.
11. Safety: Prevents sports injuries from falling.
12. Economy: Easy maintenance and saving on management costs.
13. Color: Special high-elastic EPDM and PU granules with soft surface and granular surface to prevent reflection of glare.
Application
Applicable to official track and field competitions, general sports competitions, various types of school venues.
Installation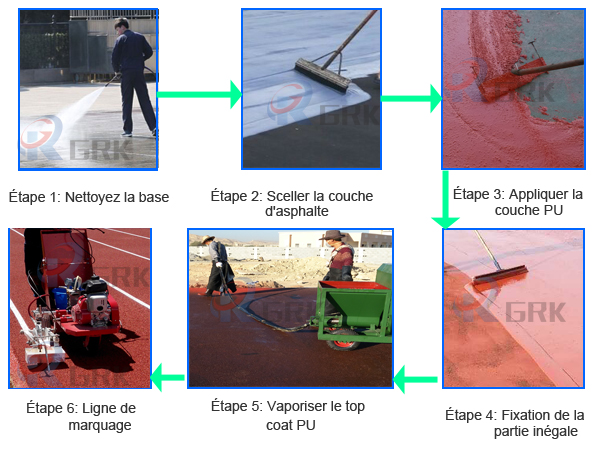 NO.

Item

Material Description

Usage
(kg/m2)

Package(kg)

Remark

1

CP051

Asphalt base primer

0.50

20

2

CP058

60-80mesh sand

1.00

25

3

/

Cement

1.00

/

Prepared by buyer

4

SBR

SBR granule(3-4mm)

3.20

25

5

RT-014A

1:4seal PU

8.00

25

6

RT-012TR

1:2 PU seal layer

2.800

30

7

EPDM

EPDM granule(1-3mm)14%

3.500

25

8

CP079

Hardener

0.017

2

9

RT-012TR

1:2 PU top coat

1.000

30

10

CP080

PU resin

0.150

20

11

RT-015MW

White Marking Line

set

5.6
Contact Us