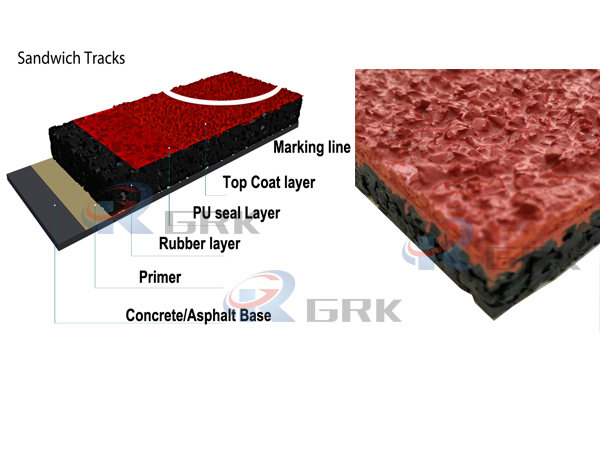 Product Description
Standard Type(13mm)
1. Concrete base or Asphalt base
2. Base primer(1 layer)
3. SBR rubber granule layer(7mm)
4. PU Sealing layer(3mm)
5. Wear-resistant topcoat layer(3mm)
6. Marking Line(2 layers)
The sandwich track adopts a high-performance surface structure composed of multiple layers, and the surface is granular, with strong waterproofness, high elasticity and dynamic design. The bottom layer is made of polyurethane adhesive in a controlled proportion of the special rubber particles. The thickness is laid by a professional construction machine, the flatness is excellent, and special rubber particles are spread on the surface. It is suitable for large stadiums and schools.
Product Features
All-weather: Maintain high quality in any season and temperature difference, and use it after rain to improve utilization.
Good flatness: professional construction machinery construction to ensure double marking of runway thickness and flatness.
Appropriate elasticity: The porous bottom layer, with moderate elasticity and rebound, can reduce physical exertion and increase competition performance.
Impact resistance: It has a strong buffer layer, which can absorb strong impact force and reduce sports injuries. It is suitable for long-term practice and competition.
Strong nail resistance: Even when the force is the most, the most frequently used 100-meter starting point, the surface will not be damaged by spikes or starting blocks.
Strong weather resistance: special rubber surface, can resist ultraviolet, ozone, wind and rain, sulfuric acid, gas pollution, and extend the service life.
The appearance is gorgeous: the color is beautiful and beautiful, the surface layer can not be granulated, the maintenance is simple, the management cost is saved, and the cost performance is high.
Application
Applicable to official track and field competitions, general sports competitions, various types of school venues.
Installation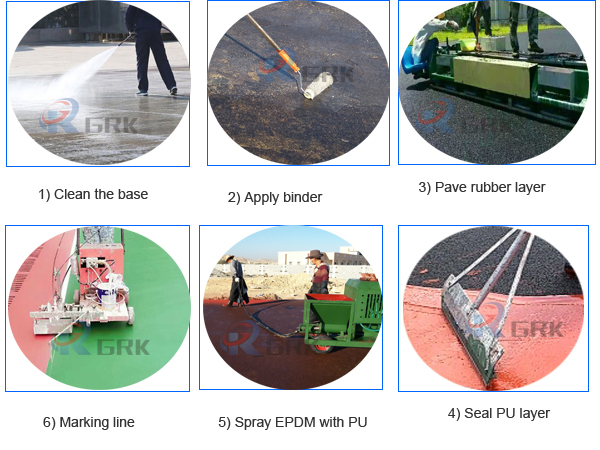 No.

Item

Material Description

Usage
(kg/m2)

Package
(kg)

1

RT-010B

Base coats

0.200

20

2

SBR

SBR granule(2-4mm)

8.000

25

3

RT-010B

PU binder(ratio is 1:8)

1.000

20

4

RT-014A

1:4seal PU

2.500

25

5

Red powder

Red powder

0.375

25

6

RT-012TR

1:2 PU seal layer

2.800

25

7

EPDM

EPDM granule(1-3mm)14%

3.500

25

8

CP079

Hardener

0.017

2

9

RT-012TR

1:2 PU top coat

1.000

25

10

CP080

PU resin

0.150

20

11

RT-015MW

Marking Lind white

set

5.6
About Us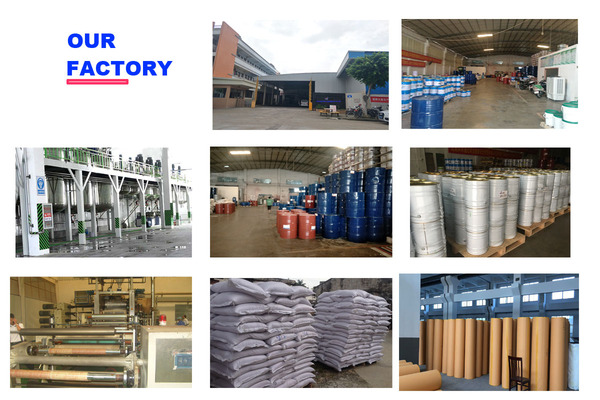 Contact Us