Acrylic Basketball Court
Features:
International Tennis Federation (ITF) approved product, suitable for international competition venues. Acrylic coating system is suitable on concrete base and asphalt base, providing high-quality sports ground materials at an affordable price. It is regarded as the most economical leisure and professional tennis court and basketball court ground system.
Product properties:
Completely green and environmentally friendly, with high anti-ultraviolet light performance, the color is lasting and deep, not fading, and not falling off. Easy maintenance, low maintenance costs and robustness in any climate. Available in a variety of colors, including blue, red, dark green, and light green. Long service life, generally more than 6 years, if the basic quality is excellent, its service life can be extended. The surface layer effectively relieves the buffer force and reduces the injury and fatigue to the athletes.
Structure: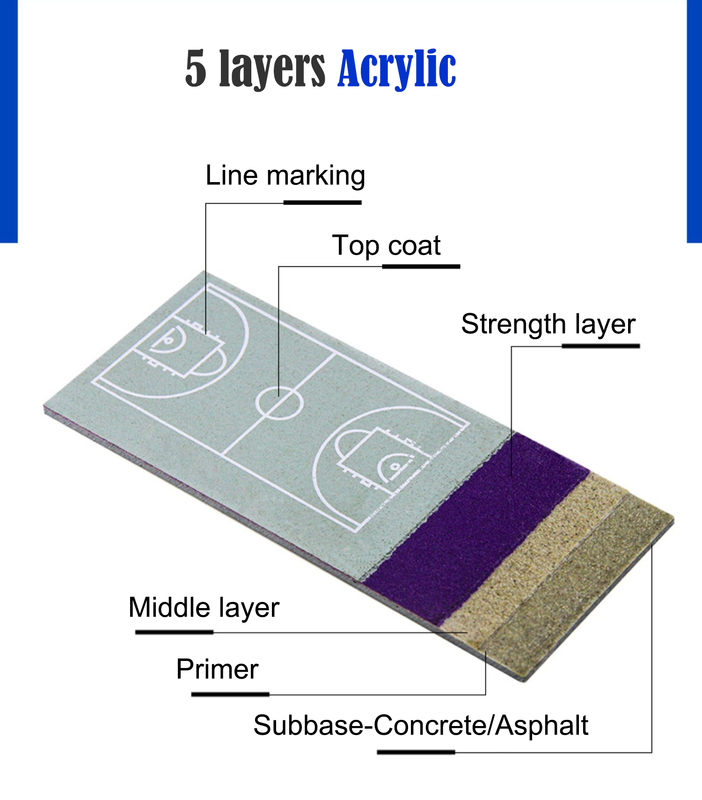 Application:
Basketball court, tennis court, volleyball court, badminton court,Athletic track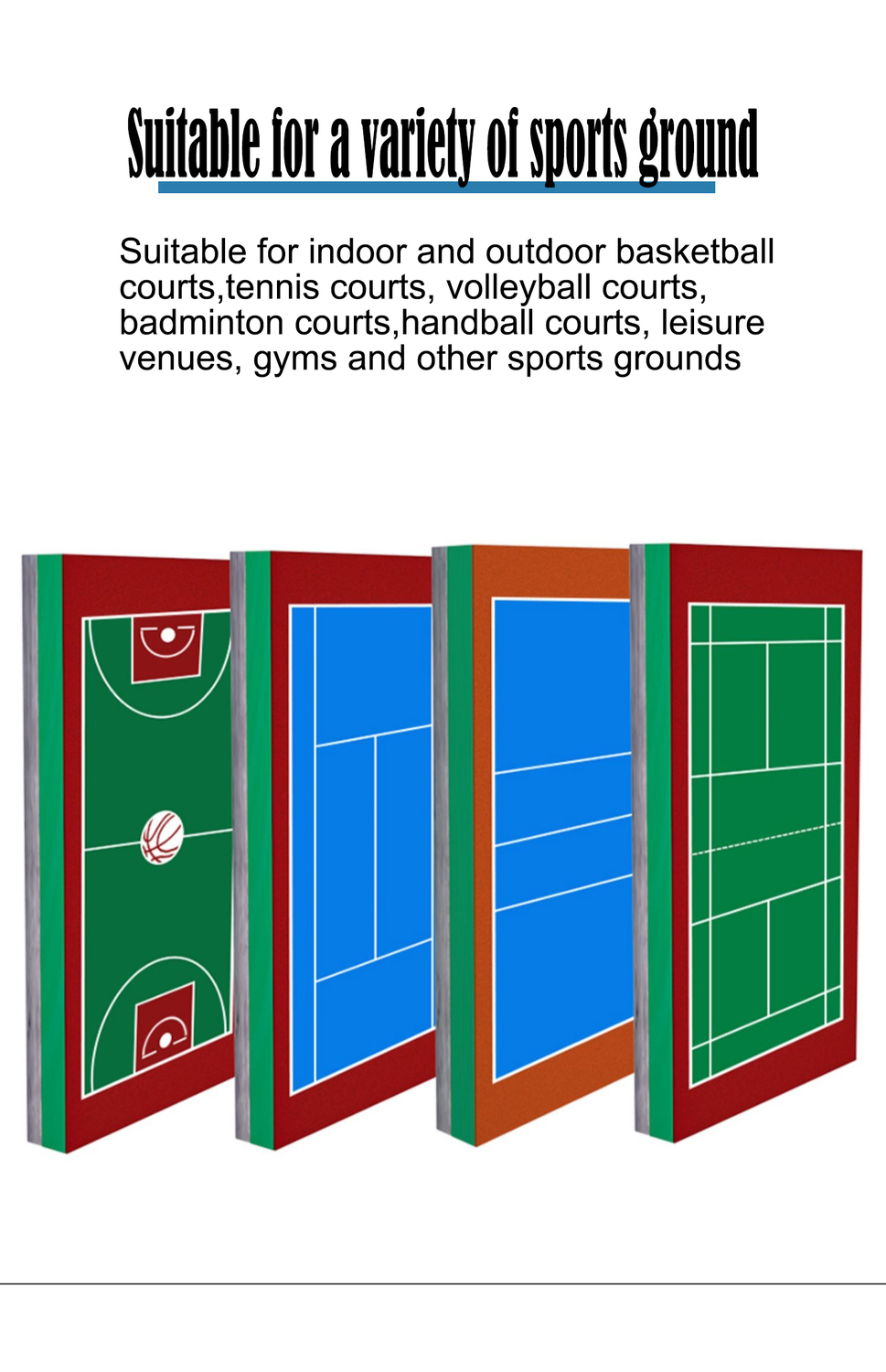 Packaging and Storage:
Store in a cool, ventilated and dry warehouse, away from fire and heat sources, strictly waterproof, moisture-proof, and avoid sunlight.
Shelf life: 12 months from the date of manufacture. If the storage period is exceeded, it can continue to be used after passing the test.
Precautions:
1. The flash point of the undried back cover material is greater than 100°C, and the ignition point is greater than 300°C;
2. This product is a chemical product, it is forbidden to eat, it is forbidden to be implanted in the body, and it is forbidden to be contacted by children.
In case of contact with skin, rinse with water and soap before touching food. Some people will feel itchy skin after contact, and should immediately rinse with water and soap; if it gets into the eyes, immediately rinse with water and seek medical attention; if swallowed, do not use methods that cause vomiting, and seek medical attention immediately.
3. In the event of a fire, powder, carbon dioxide or foam extinguishing agents are recommended. Firefighters should wear protective clothing.
4. Protect the environment: We use the latest technology to maintain our company's product leadership in quality and environmental protection. We still recommend that the above items in any form (eg: leftovers, cleaning cloths, expired products, sewage from cleaning sites, fire water after fire fighting, etc.) should not be discharged directly into rivers or other water sources without treatment. Consult local water management or environmental authorities.
Contact us
Name: Ms Helen
Mob:0086-13726309092 (WhatasApp,Wechat)
Facebook: paintfloor.GRK
Email:grk-sales@foshangrk.com.cn