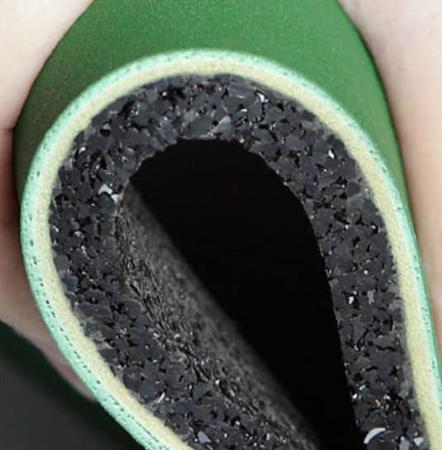 --- Description ---
Sandwich Silicon PU is formed from a base mat of resin-bound rubber crumb of 7mm to 15mm of thickness followed by a sealing layer made of PU with very fine rubber granules. Then the PU cushion layer of around 3mm is applied after which comes the surface coating and line drawing. It is an economic option for sports floor as the SBR granules layer is much more budget friendly than the pure PU material. Compared to PU, silicon PU have a longer lifetime, easy to maintenance. Silicon PU(SPU) is an environmental friendly and corrosion-resistant product.
--- Application ---
Both indoor floor and Outdoor floor.
Tennis court building; Basketball court installation; Badminton court construction; Volleyball court pavement; Playground Building; School Construction; Stadium construction; Footpath decoration; Playing ground Building.
--- Characteristic ---
1. Safety
With its elastic buffer layer, SPU surface reduces force(absorb energy/ shock), which enhances safety.
2. UV and Water Resistant
Featured by UV and water resistant, the SPU material is popularly used for outdoor sports court.
3. Multi-used
(a) It's suitable to play all kinds of ball games.
(b) Perfect solution for a cracked court as it can be used to fill cracks.
--- Company ---
Foshan GRK Commercial Co., Ltd. focused on sport surface material, such as rubber athletic track, basketball court material,tennis court court material, badminton court material, multipurpose court material, playground surface, jogging track in China, which has its one-stop service system from manufacture, sell, export and install. Years of development to become the industry pioneer, modest cost control experts, supply chain service experts and experts, the majority of businesses and consumer recognition and favor. Adhering to the "people-oriented, integrity work development strategy based on theworld", "non domain operators, symbiotic" business philosophy and the "based on the China, to the world" to the development goals, to build a world-class sports material chain brand, provide more valuable products and services for consumers, strive to promote the development of sports.
--- Contact ---
Name: Ms Helen
WhatsApp/ Wechat: 0086 13726309092
Facebook: paintfloor.GRK
Tiktok: @helentangrk
Email: grk-sales@foshangrk.com.cn